DICE has released Battlefield 2042 update 1.000.038 and this is for Season 5: New Dawn. Players can expect a new map, new weapons, loads of quality of life improvements and more. Read up on everything new in the Battlefield 2042 Season 5 patch notes for June 7.
Battlefield 2042 Update 1.000.038 Patch Notes | Battlefield 2042 Season 5 Patch Notes: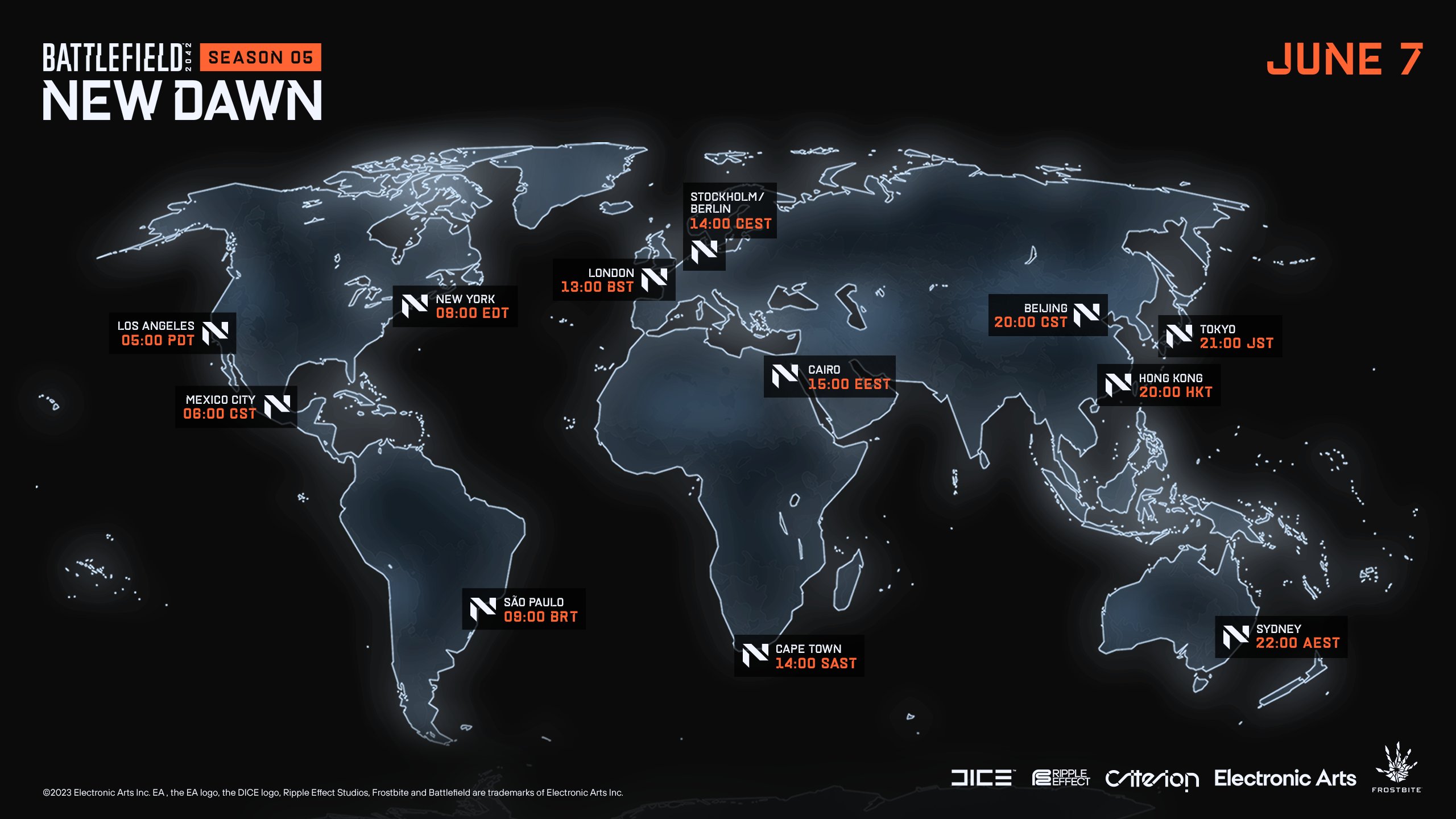 File Size: 6.9GB (PS5)
What's new in Season 5?
Here is an overview of the new content in the Season 5 Update, alongside highlights for changes and improvements:
New Map: Reclaimed
New Weapons: XCE BAR, GEW-46 & BFP.50
New Gadgets: Spring Grenade, Anti-Tank Grenade, Mini Grenade, RPG-7V2
New Battle Pass featuring all-new cosmetics for Specialists, Weapons, Vehicles and more.
Quality of Life Improvements: Vault Weapon Attachments & Universal Cosmetics, Reworking Vehicle Loadouts, Specialist Improvements for Dozer & Irish, Squad Management, Damage Unit UI and more.
Arriving later in Season 5: Further Vault Weapon Attachments, Hourglass Map Rework and further Quality of Life Improvements like Squad Orders.
What's New?
New Map: Reclaimed
War has descended upon an abandoned industrial facility, slowly being reclaimed by nature in the Czechian region. Fight in and amongst derailed trains, abandoned turbines and warehouses as you work towards secrets hidden within the mountains.
The Crash Site, featuring the derailed train, is designed primarily as a vehicle combat area, with the Landing Zone an area of forest providing a circular area that will enable close-quarters combat and new sightlines opening up when trees are destroyed.
You may see the inspiration we've taken for the Abandoned Turbine and Military Warehouse. The indoor space of the Abandoned Turbine will enable crossfires due to its verticality and cover. While the Military Warehouse's floors will no doubt attract snipers and a range of gunplay experiences due to the narrow layout.
Hidden inside the nearby mountain lies The Bunker, forgotten and made up of a central room whose linear space will bring intense, short-range, close-quarters combat. In comparison to this, The Silos is another outdoor area set up for vehicle combat with its generous roads perfect for tank battles. Easy to spot due to its four towers rising up from the ground, The Silos also provides plenty of elevated areas for infantry to get a shot at vehicles dominating the ground.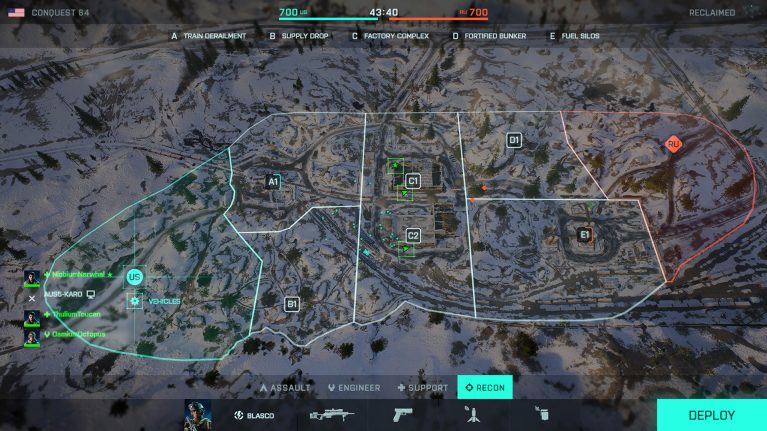 New Weapons: BFP.50, XCE Bar, GEW-46
The weapons arsenal is expanding this Season with not only new weapons, but also further much community requested improvements to Vault Weapons.
BFP.50
The BFP.50 is a powerful hand cannon, giving you another sidearm that dishes out heavy damage at close range. Anticipated to become a highly popular choice due to its size, sound and power, we just know you're going to love this updated version for The World of 2042!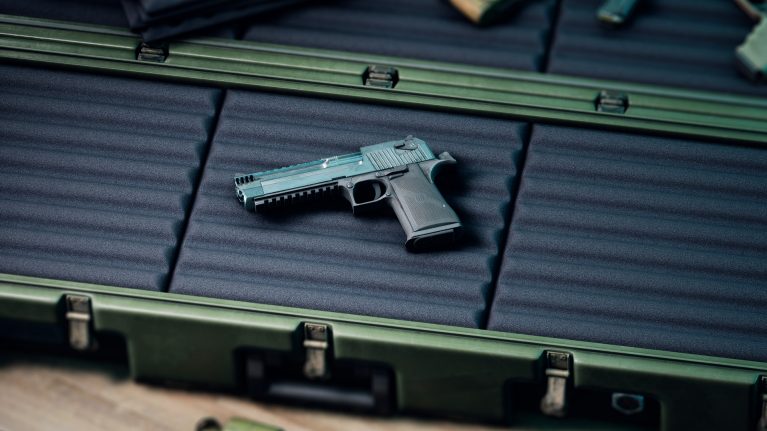 GEW-46
The GEW-46 assault rifle offers high stability with short-burst fire. Great for the medium-range environments that you'll experience across the Reclaimed map.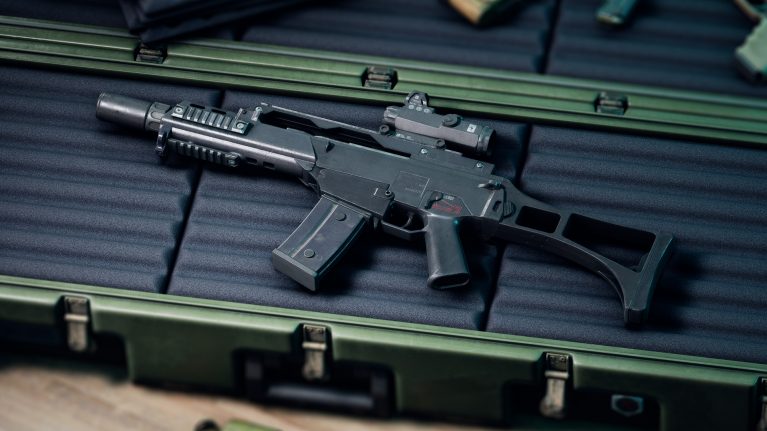 XCE Bar
The XCE Bar is a high-precision bolt action rifle. It has expanded attachment capability to accompany its stopping power, allowing you to quickly swap through attachment options to engage the enemy at various distances.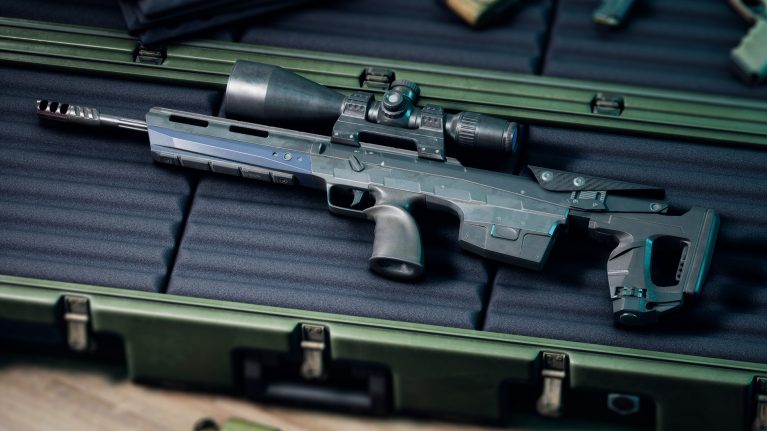 New Gadgets: Spring Grenade, Anti-Tank Grenade, Mini Grenade & RPG-7V2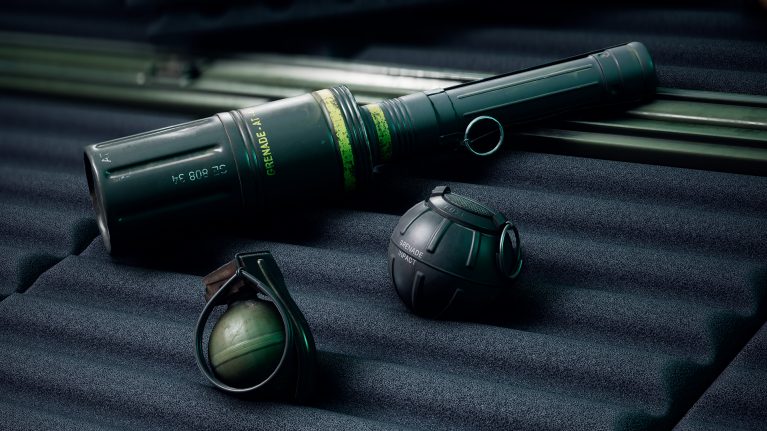 Anti-tank Grenade
A bundle of grenades that will detonate on impact against vehicles while dealing substantial damage.
Mini Grenade
An anti-personnel grenade that can be thrown a longer distance, and after a short delay explodes across a small area.
Spring Grenade
An old familiar projectile behavior as seen before in the form of the S-Mine or Bouncing Betty. It operates through a spring-activated thruster to reach head-height altitude before imminent explosive detonation.
RPG-7V2
Veterans of the franchise will be familiar with this much loved gadget, and we've heard your requests to bring this boomstick through to All-Out Warfare from Battlefield Portal. With Season 5, you'll now have access to use this fan favorite gadget however you see fit!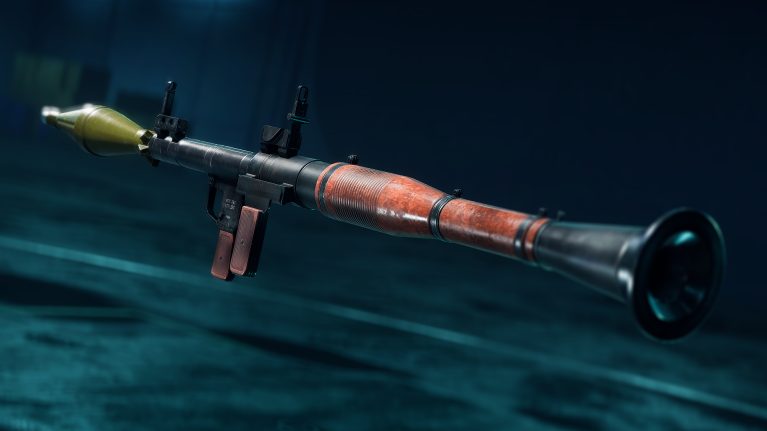 New Battle Pass
Season 5 brings with it two factions – one that's cutting-edge, calculating and professional versus a more survivalist group who are savage, independent and ruthless.
You'll see this in the cosmetics available as you play through the Battle Pass, some of the best we feel we've ever brought to Battlefield! From Falck's 'Regenerator' Skin at Tier 0, to Dozer's 'Overthrower' Skin at Tier 100.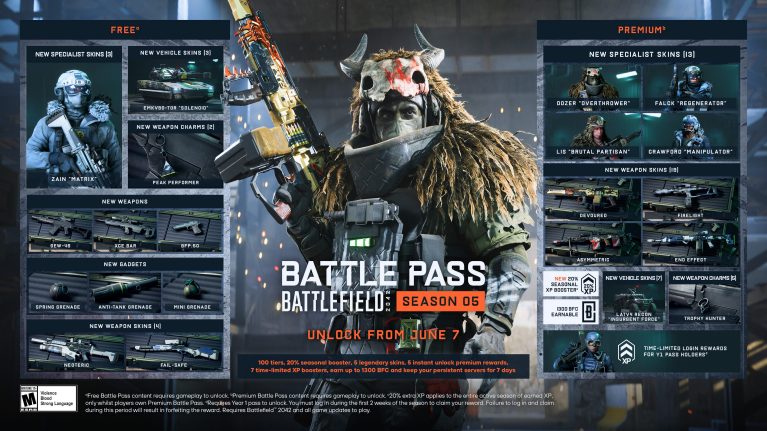 There's a whole load of items to unlock across 100 tiers of the Free and Premium Battle Pass including cosmetics, XP boosters, and the new premium Seasonal Booster! Additionally, those that were Year 1 pass holders will also receive an Epic Skin and XP booster during the first two weeks of Season 5, as a thanks for continuing to play.*
Lastly, we're continuing to work on the game beyond Season 5. We are committed to continuing the Battlefield 2042 journey and are working through the best ways to bring new content and experiences for you all. Expect to hear more from us on what's planned later in Season 5.
Quality of Life Improvements
Vault Weapon Attachments & Universal Cosmetics
We will be adapting Vault Weapons for use with All-Out Warfare attachments during Season 5. To start, we'll focus on Assault Rifles and Sniper Rifles with attachments for the M16A3, A-91, M416, MTAR-21, AEK-971 and the GOL Sniper Magnum. We'll continue to provide attachment support for Vault Weapons in subsequent updates.
With Season 5, we will also be introducing Universal Cosmetics for all Vault Weapons, from Forest Multi-terrain (Unlocked at Rank 0) to Desert Technical (Unlocked at Rank 19) and more. You'll now be able to decide not only the attachments and versatility of your Vault Weapons, but the look of them too. We'll also be extending Universal Cosmetic support to Battlefield Portal!
Reworking Vehicle Loadouts
We're restructuring vehicle loadouts to ensure their combat roles are clearly defined and to reduce prevalence of explosive weaponry. This will also add further readability on the battlefield to ensure you know what to expect from vehicles when you encounter them.
The restructuring of loadouts primarily focuses on our ground vehicles, and we'll both remove and add weapons to each available vehicle loadout. For example, explosives will no longer be an option for all vehicles, and overall you'll find more choice through a larger selection of weapons available to you.
Let's use the LATV4 Recon as an example of what that looks like.
The LATV4 Recon is one of the most used vehicles in the game, and having explosive weaponry readily available pushed it outside of its intended role as a transport. We're removing all its explosives, such as the 30mm, 50mm and Grenade Launcher, and will replace them with anti-infantry weaponry instead.
Specialist Improvements
Dozer and Irish will receive improvements to ensure they provide similar gameplay experiences as others within their class.
Dozer
For Dozer we will be enhancing his movement and animations when using the SOB-8 Ballistic Shield. You will now be able to strafe, rotate and pitch with your shield more quickly than previously, as well as being able to traverse ziplines with your shield equipped! Lastly, we'll also be including two new XP Events to reward further acts of teamplay when playing with Dozer.
On the receiving end when firing at his shield, we will be increasing its spread and introducing more bullet trajectory upon hitting his shield. This will ensure that during these encounters you still have a fighting chance, and at the very least, won't be as impacted by your own bullets as before.
Irish
Irish will receive a balancing pass to the capabilities of his APS-36 Shootdown Sentinel. We're doing that by having it cycle through new intercept and recharge states alongside an added short cooldown, versus its previous always-on state.
We've also improved its audio, alongside adding new colors to help you identify which state the APS-36 is currently in.
Squad Management Improvements
Alongside the Season update we're also adding improvements to the current Squad functionality.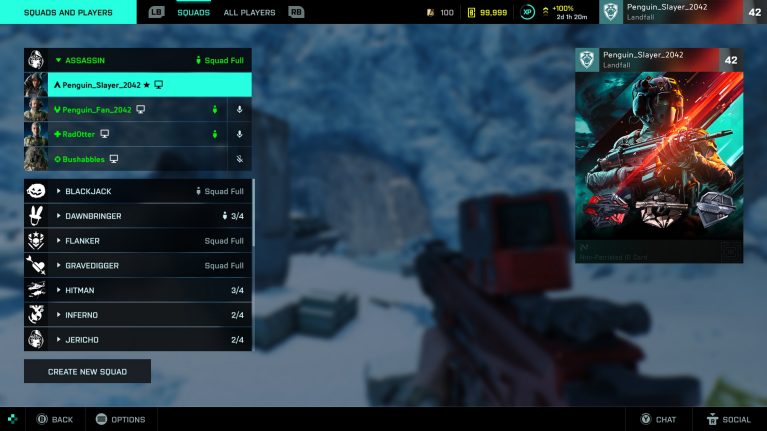 Squads and Players
The Squad Menu is now separated to give you a full overview of all squads on your team. In this menu you can make someone else the leader,  and see how many players or friends are in a squad. It also shows class icons so you know how to best complement a squad before joining it. And to add some personal flavor, leaders can also show off their Player Card Tag as the squad icon.
We also worked with the narrative team to come up with code names for each squad for that additional personal touch. One of our personal favorites is Gravedigger — surely the Gravediggers know how to PTFO. We definitely don't mess with that squad!
Create and Join
At any time you'll be able to create or join a new squad directly via the Squad Menu. Previously you could only switch to a random squad, and only from the deploy screen. If you create a new squad then we've also added a short waiting period before other players can matchmake into your squad to ensure you can play together with your friends.
Easy navigation
The Squad Menu was created to make it easier and faster to manage and navigate through squads on your team. While before it was unclear when and how to change squads, you'll now be able to do that at any time and with only a few clicks.
We hope that with this new improved Squad Management experience you feel that you have the control over who you'd like to play with during a match. Once this is in your hands, please stay in touch and give us your feedback about how you feel about it!
Later during Season 5 we'll also add Squad Orders functionality which allows you to work together as a squad to receive increased XP rewards. In short, PTFO – and get rewarded!
Other Areas of Improvement
Damage Unit Functionality
As part of Season 5, you will now be able to decide if you wish to show damage units at the bottom of your screen, at the side of your crosshair, or not at all. This new functionality can be defined to your liking via Options > Display > HUD General > Damage Numbers.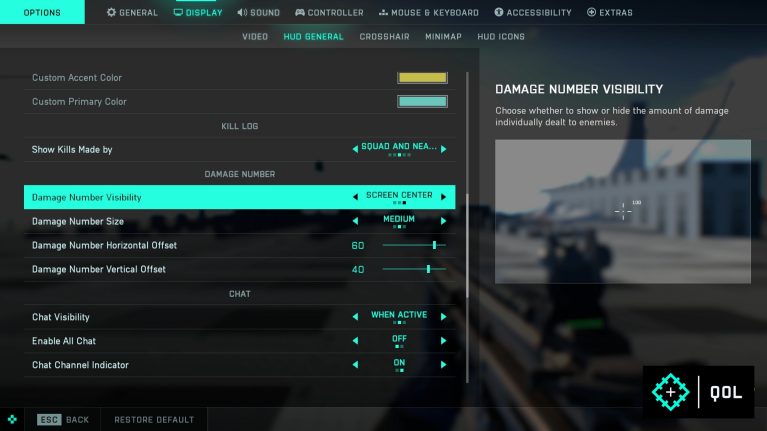 Accuracy & Dispersion Changes
Since Launch, our Level Design team has been reworking our maps to react to feedback on cover opportunities, and traversal improvements. These changes have also resulted in alterations to combat distances, and our weapons were tuned for these previous distances and combat scenarios in mind.
Over time, this has resulted in feedback from you about several weapons being too accurate at long ranges without penalty.
With Season 5, we aim to address this gap with balancing the accuracy and dispersion of several categories of weapons. Assault Rifles from All-Out Warfare and their Vault Weapon counterparts will be the first to receive this treatment.
You will notice that the maximum dispersion has been increased by an average of 15-20%, and the weapons will now reach that maximum dispersion level when they reach half of the magazine while on full auto, and full spray mode!
This should encourage everyone to do smaller bursts instead of prolonged fire towards a moving target, and in consideration with the map rework should increase survivability at longer ranges to encourage further up close and personal combat.
We will be assessing your feedback to this change over time and continue to make necessary changes in future updates.
New Unlock Requirements for Lis, Crawford, Zain and Blasco
Lis, Crawford, Zain and Blasco will now be available as rewards as you gradually gain Player Levels through earning XP. Their previous unlock requirements are no longer available. Go get 'em!
Camera Sprint Movement
We have made adjustments to the Camera Movement when sprinting in Battlefield 2042.
This change is meant to add physicality to sprinting by introducing more immersive camera movement dependent upon the type of weapon and sprint type that you may be using at that time. You will notice a different amount when using an Assault Rifle compared to an RPG for example.
We hope you enjoy this new sense of weight and body motion through the camera. For accessibility you may turn off the new motion in the accessibility options.
On top of that, there are also some golden rules to camera motion in FPS games that ensure your understanding of where you are in space, aligned with what the camera tells you, and we have taken the opportunity to improve that further by focusing on rotations rather than translations in space.
We look forward to hearing your thoughts!
Aim Down Sight Field of View is now active for all players. 
Normally a scope will adjust your field of view. With this option set to "On", the field of view will instead be taken from the field of view you chose in general, in your display settings. Some weapons will not be affected if they have specifically been designed to have a certain field of view that should not be changed.
Why is this important?
The amount of input it takes for your aim to move across screen space changes when field of view changes. Uniform Soldier Aiming calculates your aim rate to take the same amount of pixel distance on screen for a given physical movement of the mouse.
In 4.2 we set Uniform Soldier Aiming to On by default (see our Dev Note for further detail). Setting ADS field of view to On, ensures the consistency achieved by Uniform Soldier Aiming remains the same across various scopes since your field of view will not change when zooming.
Like Uniform Soldier Aiming, this will help to build muscle memory, which is essential to aiming in first person shooters.
Changelog
General Fixes and Options
The QR code to navigate players to the support website is now scannable on android devices
Fixed an issue where players in solo/co op were being placed in a separate squads when joining on friends
Added an "Reduce Sprint Camera Motion" option in accessibility settings to reduce Camera Motion for those who are easily susceptible to motion sickness.
Audio
Overall weapon mix and audio tweaks.
Specialist movement sounds are improved to match each specialists' gear
Fixed an audio issue on Stranded where two area types briefly overlap while zip-lining to the ship
Fixed an audio issue where voice overs are sometimes not present during the insertion phase of the prologue
Fixed an audio issue where weapon handling sounds are sometimes missing on insertion.
AI & Soldier Improvements
The Penguins have been tampering with the Ranger payload, and it will now take more damage from infantry projectiles. Not the Penguins, the Ranger.
Fixed an issue where a MCOM in Rush could get stuck in a defuse state if an AI Soldier gets removed while trying to defuse the bomb.
Fixed issues that resulted in AI Soldiers not trying to avoid some grenades. Don't ask.
AI Soldiers will no longer keep moving and firing at the End of Round. They'll just have to accept that the round is over and there will be another one.
AI Soldiers will now be able to enter vehicles directly from using a parachute.
Fixed an issue that would cause the player to be pushed away from bushes when proning near them.
Made improvements in ensuring the parachute cannot be deployed on smaller jumps between platforms.
Battlefield Portal
Breakthrough is now available within Battlefield Portal. You will be able to create Custom Experiences for Breakthrough and Breakthrough Small via the Web Builder. Due to the complexities of Breakthrough, Custom Scripting will not be available for this mode.
Fixed an issue that allowed Irish to use his APS Shootdown Sentinel when it was restricted.
Fixed an issue that caused the Taser Baton melee weapon to incorrectly appear in the Battlefield 3 category.
Fixed various placeholder names and icons for weapons in the restricted 2042 attachment category.
The RM68 will now have the correct icon when setting up a Portal experience.
Attachments belonging to Vault Weapons are now present in the Attachment tab via the Web Builder.
Adjusted turret speed of the M1A2 from Bad Company 2 and Tiger 1 from Battlefield 1942 to be compatible with aim decouple from body option.
Specialists & Gadgets
RPG-7V2 has received a balance pass to be more in line with All-Out Warfare Game Modes and State of Play.
A tutorial video for the FGM-148 Javelin and XM370A are now present within the Collection Screen.
The Collection Screen video for the FXM-33 AA Missile now shows the lock-on prompt as intended.
The Collection Screen will now display the correct magazine names.
Updated IBA Armor Plate's Gadget Description to mention that it only protects the torso.
Deployable Gadgets are now destroyed after a territory control change on Breakthrough or Rush.
Resolved a number of textual inconsistencies within the Collection Screen on a variety of Gadgets.
The Repair Tool is now grayed out when pressing/holding shift while using a parachute.
Fixed an issue where you wouldn't swap back to the last equipped Weapon or Gadget whenever you closed the Call In Military tablet.
You will now be able to place the Insertion Beacon within areas affected by smoke.
Fixed an issue that prevented SFX from playing when using Soflam Designator to designate enemy vehicles.
Fixed an issue which would prevent players from accessing the Soflam Designator's camera after deploying the Gadget.
Fixed an issue that caused players being unable to restock on ammo when recently being damaged.
Firing the Smoke Grenade Launcher no longer self-spots on the minimap.
Throwing Knives will now benefit from Aim Assist, allowing them to attract and slow down while in hip fire. They will not benefit from snap assistance.
Players will no longer take damage when destroying Sentry Turrets or Shootdown Sentinels
Grenades will no longer detonate from other explosions.
Dev Comment: This change has been made so that each grenade will now have a set detonation timer, increasing the readability as opposed to a chain reaction style of play. Players will still be able to shoot a grenade with bullets.
The Penguins have been working hard on their research of the Incendiary Grenade and have found a breakthrough that allowed them to increase the radius by 15%. Toasty.
Concussion Grenade
All Recon Specialists will now be able to use the Concussion Grenade.
We have also made substantial changes to how the Concussion Grenade works in a couple of areas, based on distance to the player and in comparing the direction of the player upon grenade detonation.
The effects of the Concussion Grenade are defined by Near, Far and Frontal scenarios. When it detonates within close range it will heighten the duration and intensity at the point of detonation. Beyond that near range, it will lead to a lessened duration and intensity. This effect is also decided and impacted by if the detonation takes place in front of the player.
Near radius has been increased from 6m to 8m

Total radius remains unaffected at 12m.

Increased the angle acceptance in order to be considered a frontal concussion from 60 degrees to 70 degrees.
Duration at which Concussion Grenade lasts has been increased in the following conditions:

Near + Frontal Facing from 2s to 2.5s
Far + Frontal Facing from 1.5s to 1.75
Near + Side from 0.75s to 1.2s
Prox Sensors
Through telemetry and community sentiment, since moving the Prox Sensor out of the throwable slot and into the Gadget Selection field we have seen this gadget decline in relevance compared to the TUGs and other viable gadgets. We have made some adjustments to allow for the Prox Sensor to be an equally viable choice as part of your loadout.
Increased the number of Prox Sensors that can be carried from 1 to 2
Increased the number of Prox Sensors that can be deployed at once from 1 to 2
Reduced the radius of the Prox Sensors scan from 20m to 15m, which will offset some of the benefits of these adjustments.
Angel
Fixed an issue that prevented the Tracer Dart from being able to resupply from Angel's loadout crate.
Blasco
The Area of Effect for Blasco's Signal Jammer will no longer tilt when the Gadget is on a slope.
Enemies disrupted by Blasco's Signal Jammer will no longer stop revealing their position when the affected player shoots their weapon.
Blasco's Signal Jammer will no longer protect itself from spotting.
Dev Comment: We have made this change to help players in locating Blasco's X6 Infiltration Device, allowing for a better understanding of where to find the device that is blocking their spots.
Casper
Enemy or friendly players can no longer climb upon Casper's drone and fly with it.
Added thermal vision to Casper's OVP-Recon Drone when zooming in.
Dozer
Dozer's deploying shield animation will now correctly play immediately after throwing a grenade.
Dozer's shield will now correctly play a fling/push away animation in 1st person view when being hit by a rocket, missile or tank shell.
Fixed an issue that allowed Dozer to jump for an unlimited amount of time while his shield was equipped.
Dozer's Shield bash sound is now played when hitting enemies at the edge of the melee range.
Dozer's shield can now destroy the Medical Crate, T-UGS, Anti-Tank Mine, Ammo Crate, C5 Explosive, M18 Claymore, Prox Sensor, and Loadout Crate.
Fixed an issue which would cause deflected bullets from Dozer's shield to not damage enemy players.
Fixed an issue that would cause incorrect animations between first and third perspectives with Dozer.
Fixed an issue where Dozer would be unable to switch weapons when in a prone state while switching from Shield to a Melee Weapon.
Fixed an issue that caused Dozer to not take damage and enter the heavy hit animation when an RPG would hit his shield.
Added a unique shield bullet impact sound for Dozer
Falck
Falck's Syrette Pistol projectiles no longer deal damage to Dozer when they hit his Ballistic Shield.
Falck's Syrette Pistol will now begin to replenish ammo when the reserve is missing ammo (akin to Zain's XM370A), as opposed to waiting for an entire magazine to be missing.
Irish
Fixed an issue that caused the explosion of the Shootdown Sentinel to unintentionally interact with the EOD Bot and remove player input from controlling it.
Irish's Deployable Cover will no longer damage players when it is destroyed.
Shootdown Sentinel State tweaks and louder pre-explosion on sticky
Sundance
Sundance's Anti-Armor Grenade has been removed from the game.
Dev Comment: Sundance's Anti-Armor Grenade had poor readability which would result in vehicle players being unable to detect between an incoming missile or an Anti-Armor Grenade. Which resulted in being unable to react suitably with countermeasures. Going forward, the only time you will see "Incoming Missile" alerts is when it is actually an incoming missile.
Zain
Fixed an issue that would prevent players from setting the Airburst range on the XM370A for specific structures.
XM370A's Range Number will now display the correct distance when looking through smoke.
Progression
Fixed issue where earning T1 Mastery on the Defibrillator did not reward the "Jack of All Trades" Achievement/Trophy.
Adjusted Pilot Kill XP to only be rewarded when the victim's air vehicle did not also get destroyed at the same time.
Avenger and Savior Kills now include who you avenged or saved in the XP log.
Hazard Zone
Fixed an issue that prevented the Javelin from being purchasable in Hazard Zone.
Vehicles
Removed yaw aim restriction from the LCAA Hovercraft, you can now rotate 360 degrees on the second seat.
Fixed an issue with EMKV90-TOR's zoom level not working properly on higher FOVs
Active Protection Systems will now intercept Incendiary Grenades as intended.
The Active Protection Systems light signal is now working as intended on all graphical settings.
Fixed an issue which would cause animations to occur when in a vehicle open seat and switching weapons or gadgets.
VFX trails on dumbfire rockets now continue until the projectile reaches the target.
Barrage Missiles are no longer missing an audio cue when each rocket is replenished.
Improved aiming for passengers while the driver is turning the body of the vehicle.
Fixed an issue where weapon reload sound effects went missing after entering an open seat in a vehicle.
Fixed a missing key bind in some passenger seats.
We've done a full pass on camera positions on all passenger weapons to ensure they feel similar during gameplay.
Fixed an issue with shooting soldiers with a vehicle not triggering in combat state for spawning
Helicopter smart rockets will now lock onto designated targets
Added overheat sound effects to flak on LATV4 and Hovercraft, as well as Wildcat's Heavy AA.
The Air-to-Ground Missile no longer locks onto empty vehicles but will keep the lock if the enemy player leaves the vehicle during the lock sequence.
Lowered: Accepted angle of radar missiles from 10 to 5 (We're not done with our response to this yet)
M5C Bolte
Players will no longer be able to shoot through the windshield of the Bolte
CAV-Brawler
The CAV-Brawler's 40mm Incendiary GL ammo box will now be attached to the weapon's base.
Soldiers are no longer able to see through their body while in open seats of CAV-Brawler.
The CAV-Brawler should now display the correct hints while being locked on.
The CAV-Brawler's 40mm Incendiary projectile can no longer be briefly seen floating in front of the weapon.
EBAA Wildcat
The missing Lock-on SFX when using EBAA Wildcat has been located and is now present.
Lowered minimum damage of EBAA Wildcat's default primary weapon from 9 to 6
Damage fall off start distance is now set to 250m for the EBAA Wildcat's default primary weapon.
Removed EBAA Wildcat's 30mm primary cannon inherited speed from the vehicle
Fixed a reload sound for Barrage missile on EBAA Wildcat
EBLC-RAM
The missing Lock-on SFX when using EBLC-RAM has been located and is now present.
Firing VFX is no longer misplaced on the EBLC-RAM when firing the Missile Launcher.
EBLC Ram will now be classified as a Heavy Armor vehicle.
Jets
Jets will now benefit from Rocket Pods.
You will now be able to look back while in the pilot seat of Jets.
Reduced the dispersion of 30mm cannons on Jets.
Increased the overheat rate of 30mm cannons on Jets.
Updated the Third Person Perspective Camera to be more responsive and precise to your inputs.
Tanks
Removed staff shell smart lock on, it now dumb fires like all other tank shells
Added an ability for staff shell to lock onto all laser designated target for extra damage
Turret speeds will now be correctly reflected within the Vehicle Weapon loadout screens.
Added an option to decouple the tank turning from aiming.
Vehicle Loadouts
LATV4 Recon
Removed: 50mm Cannon, 30mm Cannon & Grenade Launcher
Added: Canister Shot, Minigun with Thermal vision, HMG with Thermal vision & 20mm Flak
LCAA Hovercraft
Removed: TOW Missile from the passenger seat with these changes, to ensure that it further aligns this vehicle into its combat role. We feel that despite this item being skill based, a hovercraft should not have access to such a deadly item.
Added: LMG with Thermal vision, Minigun with Thermal Vision & HMG with Thermal vision
EBAA Wildcat
Removed: 57mm cannon, Rocket weapon pod, Mortar Pod & 40mm Volley pod
Added: 35mm Dual AA Cannons, Minigun with Thermal Vision & HMG with Thermal vision
MAV:
Removed: Flak Pod
Added: Incendiary Grenade Launcher
M5C Bolte
Removed: 30mm Cannon
Moved: Repair System to Slot 1 from Slot 2
Moved: Missile Launcher to Slot 2 from Slot 1
Added: 50mm Cannon, Incendiary Grenade Launcher and Passenger Detection Pulse.
M1A5, T28 and EBLC-RAM:
Added: Minigun with Thermal Vision & HMG with Thermal Vision
Increased: Heatseeker Missile Damage to Air Transport Vehicles
Weapons
Fixed an issue that caused the camera to shake erratically when firing the NVK S-22 on PlayStation 4 and Xbox One
Fixed a visual inconsistency between the AEK-971 weapon model and its icon.
Fixed an issue where the Factory Barrel Muzzle on the LCMG was invisible while looking through a x2 scope or higher.
Fixed an issue that causes the RPK Flashlight to cast a shadow of the RPK's muzzle.
The SWS-10 and DXR-1 no longer clips through the ground while shooting from a prone position.
Increased the AK24 aim down sight movement speed to be inline with other Assault Rifles.
Incendiary Grenades now keep doing damage after you've switched weapons.
Enemy nameplates no longer have a bright glow when looked at through T4 Thermal 2.5x scope.
Fixed an issue where the SVK bullets were zeroed at a different distance than the rest of the weapons, resulting in high inaccuracies at medium and longer distances. This issue became increasingly visible with the addition of Thermal Scopes.
Fixed an issue that caused the M26 Mass Underbarrel Launchers to share ammo pools across all the variations
Fixed an issue that caused the M320 underbarrel launchers on the M16A3 to all fire HE instead of their intended variations.
Reduced the maximum bullet capacity of the MTAR-21's extended magazine from 50 to 40
Longshot scope has been updated to read 12x instead of 40x.
Fixed an issue that caused Weapon Scope Glints to not appear on several 4x and higher scopes and weapons.
Fixed an issue that prevented the M416's flashlight from being turned on.
GOL Sniper Magnum now displays its Fire Mode as Bolt Action instead of Single.
Fixed an issue that caused the Kobra sight to clip through the M16A3
Fixed an issue that caused the 40mm Smoke Underbarrel Launcher on the LCMG to display an incorrect name in the kill log if a player got a kill with it.
In case you didn't know, DICE has confirmed that we'll be getting Season 6!
Source: EA