For those playing Call of Duty: Black Ops Cold War (regardless of platform), you might want to stop doing that right this moment, as it seems your IP address might get compromised. It's been reported by multiple players that a Black Ops Cold War exploit is circulating now that lets a hacker gain access to another player's IP, which they can then use to crash their victim's game.
This issue has been brought up by several members of the community
Game Keeps Crashing Or Saying I Have No Internet…But I Literally Do.
by u/Elegant_Spread3766 in blackopscoldwar
Cw and wz2 players are now leaking out Ip's and crashing our games.
by u/Elegant_Spread3766 in blackopscoldwar
Even reputable Call of Duty YouTuber Xclusive Ace has mentioned it in a new video, and based on his research, this is happening to just Black Ops Cold War and not the other Call of Duty games.
CharlieIntel has also announced the issue too: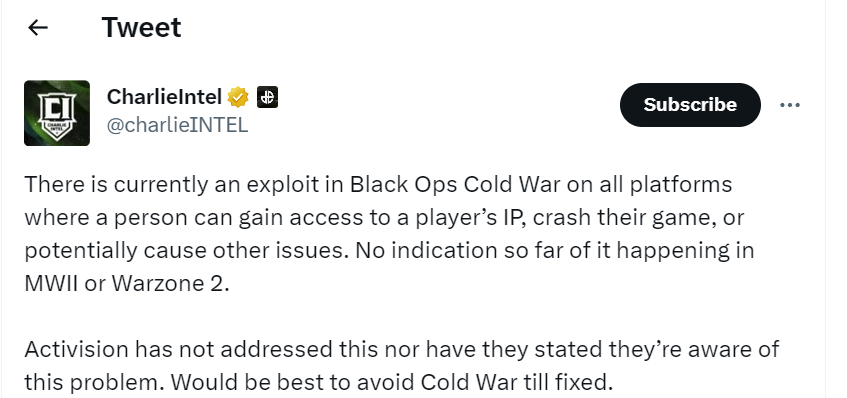 Unfortunately, Activision (and Treyarch) has remained mum regarding the exploit and has provided no acknowledgement or timeline for a fix. Mind, Black Ops Cold War was just released this 2020 and even saw a release on the newer consoles (PS5, Xbox Series X|S). Speaking of consoles, this has been confirmed to be affecting consoles too (unlike previous hacks that were on PC mainly), and turning crossplay off will still affect gamers.
If you really, really want to play Black Ops Cold War, we suggest using a VPN, or better yet, don't risk it, as people who have your IP can impersonate you, steal your info, find your exact location and more. In short: it is totally not worth the risk.
Given how recent Black Ops Cold War is, chances are Activision will be doing something with this and once we hear of anything about it, we'll be sure to let our readers know.
We've reached out to Activision regarding this and will update the article if we get a statement.
More Call of Duty Reading: