If you're having a hard time connecting to both Call of Duty: Modern Warfare 2 and Warzone 2, it's not just you, as multiple players from both games have reported on the MW2 and WZ2 servers down issue that's plaguing gamers this June 6.
Call of Duty Modern Warfare 2 and Warzone 2 Servers Down This June 6 Status and Updates:
Update: The Activision support site states that Modern Warfare 2 and Warzone 2 are now back online.
Over on the Modern Warfare 2 subreddit, multiple gamers are reporting on server outages and how multiplayer matchmaking simply isn't working.
Infinite Searching For Game or Only Half Full Lobby
by u/HomeworkHour in ModernWarfareII
Due to steam wednesday maintenance, call of duty gets kicked out of ranked game and goes offline. Naturally, I'm being punished for being kicked out of ranked. Why am I being punished when I am not guilty here? What nonsense is this?
by u/phob0s7 in ModernWarfareII
MP Matchmaking Broken, Only Resurgence Works
by u/thebeastofbitcoin in ModernWarfareII
This is also happening to Warzone 2 it seems.
The ever-reliable down detector for Call of Duty has also seen a huge uptick in reports in the past hour.
So far, the official Activision Twitter account has not acknowledge the outages, but the official site does mark both games as having problems on all platforms.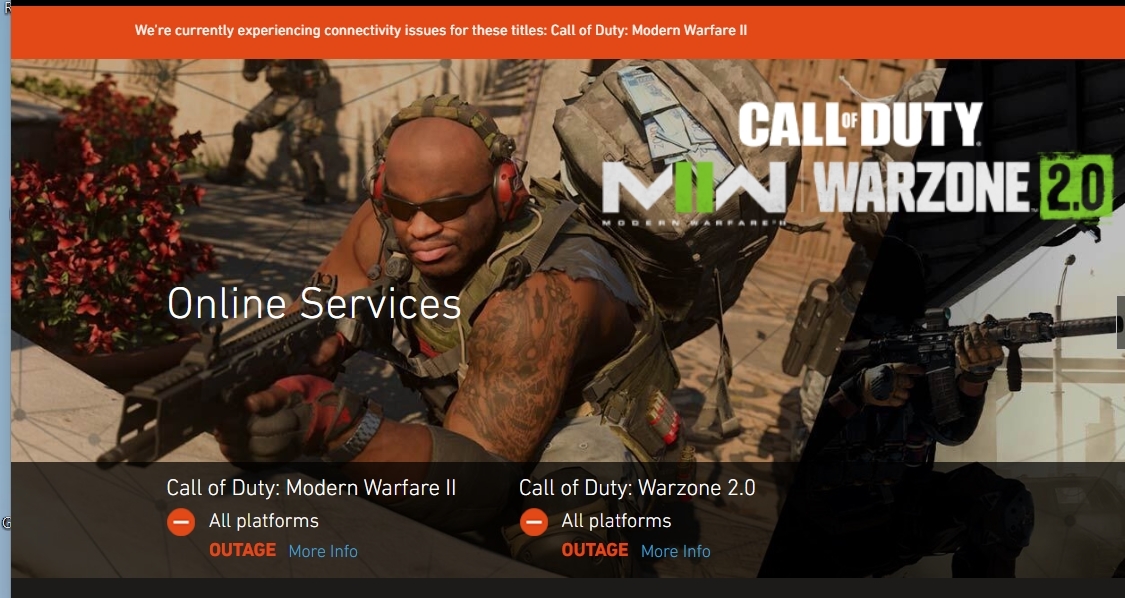 Same as always, once we know more about the situation, we'll update the article ASAP. For the latest developments on today's server outage, refresh this article from time to time.
More Call of Duty Reading: